Aktuelno
Published on septembar 19th, 2013 | by vuja
4
Torlak u rukama Novartisa! Srbija bez prava za proizvodnju seruma i vakcina.
<![CDATA[
google_ad_client = "ca-pub-1840881446723232";
/* FlickTekst */
google_ad_slot = "8501514980";
google_ad_width = 300;
google_ad_height = 250;
// ]]>

Zadnjih par dana internetom kruži vest da je Novartis postao strateški partner (?itaj PRODAT, a možda i poklonjen!!!) Instituta za virusologiju, vakcine i serume "Torlak".
Tu vest je objavilo više internet portala i štampanih medija.
Da li Srbija potpisuje sebi smrtnu presudu?
Da bi mogli da sagledamo šta ova prodaja ?ini Srbiji, podseti?u vas da se upoznate sa istorijom Novartis kompanije koja je izme?u ostalog proizvodila DDT, Clioquinol, Malathion, and Ritalin, a dokazani su njeni koreni od Tre?eg Rajha… I.G. Farben > Ciba-Geigy > Sandoz > Novartis…
Da tako je, Srbija prodajom Torlaka Novartisu potpisuje sebi smrtnu presudu… tihu smrt… koja može biti i ubrzana u bilo kom tentutku kada svetskim silnicima to bude odgovaralo.
Šta potvr?uje moju tvrdnju? Pa naravno, ?injenica da je Novartis tražio od Republike Srbije i Ministarstva Zdravlja Srbije izuze?e od tužbi, ako njihove vakcine proizvedu štetu gra?anima Srbije. Te garancije Novartis je i dobio.
E, pa ako neko traži takve garancije, to zna?i da mu je prava namera i da pravi zdravstvenu štetu gra?anima Srbije, a onome ko je te garancije dao treba da se sudi!!!
Šta još ide u paketu sa ovom prodajom?
Fitofarmaciji Galenika je zabranjena proizvodnja penicilina, koji sada moramo da uvozimo. Pa da li se tako štite srpske kompanije i privreda? Umesto da zabranimo uvoz penicilina mi zabranjujemo proizvodnju istog.
I šta se dešava još u ovoj zemlji? Novartis u Srbiji ve? radi na novim Genetski Modifikovanim Vakcinama, DNK vakcinama tre?e generacije. Za genetski modifikovane proizvode se zna da kona?no dejstvo ne može da se utvrdi u kratkom periodu. Izgleda da Srbije u tre?oj generaciji ne?e biti.
O namerama da se vakcinama smanji broj stanovnika planete, ve? je govorio Bil Gejts, sa svojom ?uvenom formulom CO2 = P x S x E x C kako ?e se emisija CO2 gasova smajiti ako se smanji broj ljudi (P), što je mogu?e uz pomo? vakcina!!!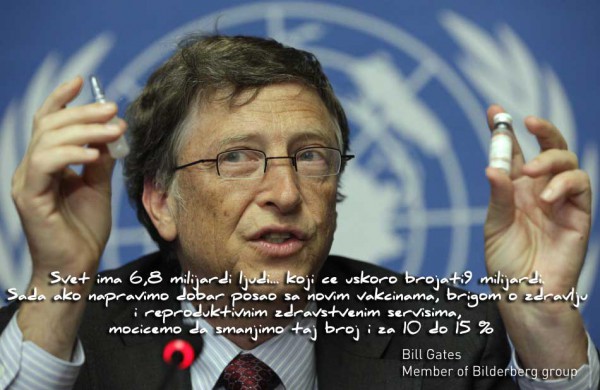 O vakcinama sam ve? pisao, a ovom sraamnom prodajom Torlaka Srbija gubi mogu?nost da kontroliše šta ?e da sadrže vakcine koje se daju stanovništvu, i isto tako onemogu?ava da se tuži kompanija Novartis, kad se utvdi da je njena vakcina imala štetan uticaj na ljude, a posebno decu!!!
Dajte svoj glas protiv prodaje Torlaka kompanji Novartis!