Aktuelno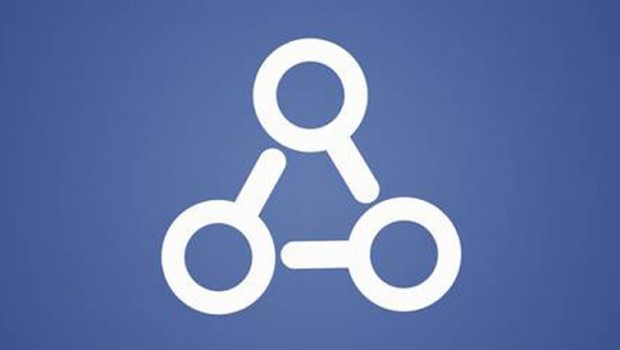 Published on jul 9th, 2013 | by vuja
0
Od juče je aktivirana nova pretraga na fejsbuku – Graph Search
<![CDATA[
google_ad_client = "ca-pub-1840881446723232"; /* FlickTekst */ google_ad_slot = "8501514980"; google_ad_width = 300; google_ad_height = 250;
// ]]>

Fejsbuk je 8. jula aktivirao nov na?in pretrage, Facebook Graph Search.
Za razliku od tradicionalnih pretraživa?a fejsbuk omogu?uje personalizovanu pretragu, uzimaju?i u obzir vaše delovanje na fejsbuku, lajkove, šerove…
uklju?uju?i sve linkove, slike, dokumente ili prijatelje.
Personalizovana pretraga
Pretraga se za sada obavlja na engleskom jeziku, tako da pretraga može biti, na primer "friends in my city who like ada ciganlija" i fejsbuk ?e vam izbaciti sve prijatelje koji su lajkovali adu ciganliju. Pretraga daje prvo najrelevanjtnije rezultate.
Tako?e vam fejsbuk u padaju?em meniju daje još opcija tako da možete izabrati i "Friends of my friends who like Ada Ciganlija and are from my city" … fejsbuk ?e vam izlistati sve prijatelje i njihove prijatelje koji su lajkovali adu ciganliju.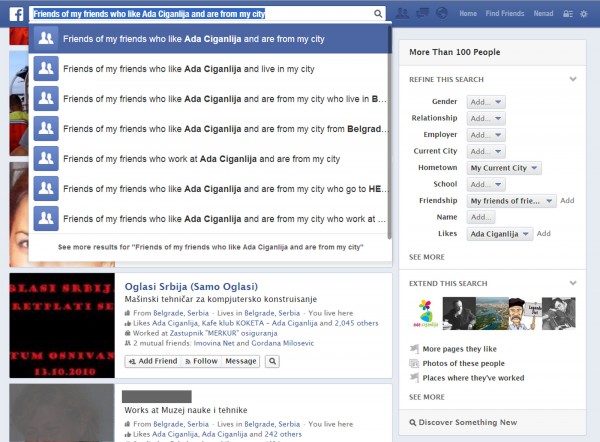 Pored toga na desnoj strani se nalazi i alatka za filtriranje tako da možete pretraživati po polu, statusu veze, poslodavcu, mestu prebivališta, mestu ro?enja, škole, a i redukovati ove rezultate unosom oder?enog imena… Tako?e vam se nudi i pretraga stranica koje oni vole. Mogu?e je da pregledate slike svih tih ljudi ili mesta gde rade.
Tako?e možete pretraživati video materijale po raznim kriterijumima, recimo "Videos by pages that I like" … ili slike "photos of me" ili ne?ije slike "photos of Ime i Prezime" gde ?e se pojaviti fotografije te osobe, ?ak i one na kojima je ta osoba tagovana a sakrivene su u njenom profilu.
"Mi imamo Newsfeed, za povezivanje sa prijateljima oko vas. Imamo Timeline, koji nam govori istoriju ljudi oko vas, a sad imamao i Graph Search koji sve to povezuje i daje odgovore direktno i u realnom vremenu." – kaže Mark Zuckerberg
Pitanje privatnosti i fejsbuk pretraga
Graph Search se testira od januara ove godine i u to vreme je jedan korisnik isprobao razne pretrage i objavio ih na Tumblru, uglavnom biizarne upite, kao "Married people who like Prostitutes", "Single women who live nearby and are interested in men and like Getting Drunk" …
Fejsbuk je dao sve od sebe da reši ova pitanja, što možete pogledati i na njihovom zvani?nom videu, mada ne može da reši neznanje prose?nog korisnika oko podešavanja privatnosti. ?ak i ovo uputstvo nas podse?a da su podrazumevana podešavanja generalno podešena protiv privatnosti korisnika. I kao što spiker u videu kaže "zapamtite da se vaše slike koje ste sakrili od javnosti prikazuju u pretrazi ako se nalaze još negde na fejsbuku, recimo zidu prijatelja i sl."
Špijuniranje putem fejsbuka nikad nije bilo lakše
Špijuniranje putem fejsbuka nikad nije bilo lakše, a ne možete ga izbe?i. Nemogu?e je da se isklju?ite iz fejsbuk pretrage, ako ste korisnik istog bi?ete i u pretrazi. To je cena prisustva i povezivanja na društvenim mrežama, a Graph Search ?e biti sve mo?niji i mo?niji.