Aktuelno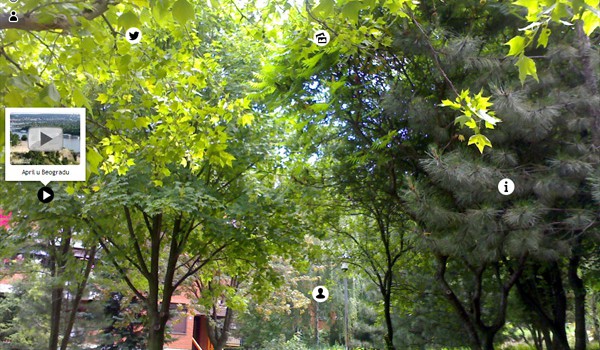 Published on april 24th, 2013 | by vuja
0
Marketari su upravo dobili novo oružje, kako do fanova na Facebook-u: ThingLink
"Slika govori više nego hiljadu" re?i više nija fraza barem što se ti?e društvenih mreža. Zvani?no na Fejsbuku, od utorka ujutro, uz pomo? ThingLink -a možete kreirati popularne interaktivne slike.
To zna?i da od sada možete postovati fotografiju u kojoj se nalaze drugi sadržaji: video, tekstovi, druge fotografije koje  možete pregledati bez napuštanja fejsbuk tajmlajna, dati svojoj slici sasvim nov smisao.
ThingLink omogu?ava korisniku  da poboljša sliku linkovima ka drugim izabranim sadržajima. Kada pre?ete mišem preko ikonica koje se vide na slici prikazuje se prisustvo dodatnog sadržaja. Zatim, sa jednim klikom, korisnici mogu da otvore YouTube video snimke, audio snimke, druge sajtove i bilo šta drugo bez da odlaze sa posta. Pogledajte primer kao to izgleda u praksi:
Ovakve interaktivne slike možete postaviti o na svom sajtu. Ova je postavljena zahvaljuju?i WP plaginu: http://wordpress.org/extend/plugins/thinglink/
U teoriji, ceo paket nudi veliku mogu?nost za brendiranje, koje imaja za cilj da se bzo postavi što je mogu?e više informacija publici.
ThingLink nije prvi interaktivni servis za slike na Fejsbuku – Stipple je krenuo u januaru – ali njegovo prisustvo nije ukazivalo na rastu?i trend. Predhodno u novembru, ThingLink je debitovao na Tvitter-u. Od tada, slike koje su bile sa ThingLink sadržajem bile su pet puta vidljivije nego obi?no. Dakle, zahvaljuju?i ovim rezultatima i Fejsbuk je odlu?io da omogu?i ovu aplikaciju.
Da li interaktivne slike kao što su ThingLink imaju budu?nost na mreži? Recite nam šta mislite.